Return from Jamaica!
Posted on 08/29/2020
We did it, we took a Caribbean vacation and it was glorious!

Travel right now is certainly not for everyone, but it can be done safely if you follow all of the precautions and know what to expect. Each destination has its own set of requirements for visiting to keep its people & guests as safe as possible. They want to stay open, they need income and for many of the Caribbean countries tourism is their main or only industry. Requirements and rules seem to change daily so make sure you have a qualified travel advisor who will help you make sure you are up-to-date before you take off.

My family and I visited Beaches Negril in Jamaica which is like our second home. We flew with Delta and were very pleased with the extra precautions they are taking. There were clear protective shields between the desk agents and passengers and even large dividers between passengers going through security in Atlanta. Physical distancing and masks are mandated in the airports and on airplanes during flight and they give gentle reminders with signage and recorded announcement.
Delta is blocking the middle seats through at least early January 2021 and only allowing between 50-60% capacity at this time. Most flights were not even that full for us. Delta currently uses electrostatic sprayers to sanitize between every flight. When you board, the flight attendant hands each person a sanitizing wipe.

Traditional snack & beverage service does not exist right now, but they do give you a nice little snack pack that includes a small bottle of water, cheese nips or almonds, Biscoff cookies and a single use hand sanitizer. Passengers are also reminded to help everyone by giving some extra space when entering and exiting the aircraft.
Jamaica (as well as most other countries and even some states) requires everyone to complete an online health questionnaire and customs form. If you are permitted to enter the country you will get an emailed Travel Authorization. At the time of our travel they required everyone from specific "high risk" states to submit a negative PCR Covid test during the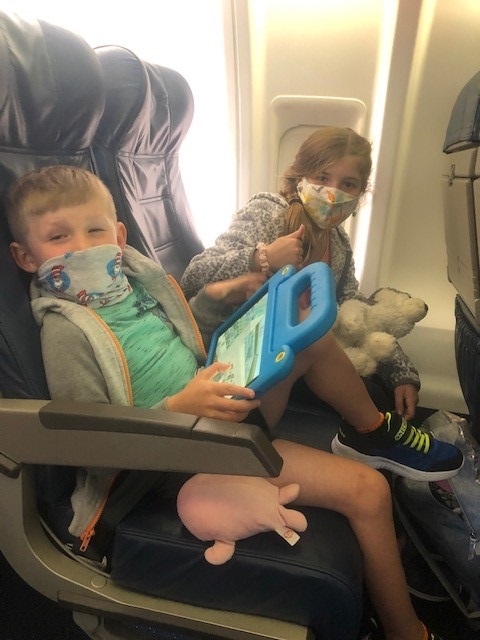 online check-in process; but as I mentioned, things change daily and while we were in destination they announced that starting August 20th everyone coming from the US is required to submit a negative test prior to arrival. We chose to get tested prior to departure just to make sure we were safe to travel (even though at that time it was not required of us). We also took it upon ourselves to self-quarantine upon return and get tested again before being around anyone else once we got home. These are unprecedented times and we all need to do our part to make sure we keep ourselves and our friends, family & even strangers safe!
Upon arrival in Jamaica we used Club MoBay expediting service and I'm so glad we did. The first step is to stand in a line to get your temperatures taken. The next step is to wait in line for a health screening. With Club MoBay we skipped ahead to the front of both of these lines. From the looks of it, we likely saved ourselves an hour or more by utilizing this service! The health screening is pretty detailed and I think we were with the representative for about 20 mins. They did ask if we had been tested recently and we were able to show that proof. Then on to immigrations where we
had our own line and then customs. After delivering us to the Sandals/Beaches Arrival lounge we said goodbye to our awesome Club MoBay Guide. Upon departure we used Club MoBay again. This is a departure lounge with more comfortable seating areas and at this time they have servers that take your food and drink order and bring it to you (instead of the traditional bar and self-serve food that they've always had in the past).
Now, on to the resort! Beaches Negril is one of our favorite properties; at the end of the week my 5 year old asked if we could please come back here every time we have the money! Happy kiddos equals happy parents! Upon arrival we were still greeted with a cool towel as normal, but then were also asked to sanitize our hands right away. We were then taken to the Concierge Lounge; I had already completed an online check-in so they just brought us a welcome drink, took our temperature, gave us our key and resort information and then took us to the room with a small tour along the way. There is hand sanitizer everywhere so you have to be ready to use it multiple times each day. At the resort they have reminders all around to physically distance, sanitize your hands and wear face coverings when appropriate.

Normally at Sandals & Beaches resorts there are only maybe one or two restaurants that require reservations, but at this
time for capacity control, they require reservations to all sit-down restaurants for dinner. All of the restaurants had a QR code that you could scan to see the menu on your phone, you could use the app to see menus as well and some (not all) restaurants still had a physical menu if you wanted it and I did see them sanitize those before and after use. The buffet was still available for breakfast and for a couple of other meals but was not open for all lunch and dinner times as it normally would have been. To visit the buffet they had one entrance and one exit open, they request you wear a face covering (though not everyone did) and sanitize your hands, they give you a plate and then they have employees at each buffet station to dish out the food for you. It was a great alternative and done very well! All
employees are required to wear a face covering throughout the day. There was lots of cleaning and sanitation going on from the restaurants to the water sports equipment between each use, handrails, seating areas, etc. I felt like they were doing an excellent job on that front for sure!
Negril is a public beach so there are beach vendors. I was a little surprised there were still so many of them and to be honest I felt like they were slightly more pushy this time compared to past visits. They all wore face coverings and were still very kind when you said no thanks. We did purchase a few things and I didn't argue price at all knowing that they have been without customers for months.Food and service have always been very good here in my opinion but I did feel like some people were taking it even a step further. They were so very grateful to be back at work and happy we were there, that was easy to see.

I truly felt like we got the full experience and I wasn't sure that was going to happen.

Beaches still offers all of the non-
motorized water sports including kayaks, stand-up paddle boards, aqua cycles and Hobie Cats. They also still include the motorized options such as glass bottom boat rides, snorkel tours, scuba, waterskiing, knee boarding and banana boat rides. I just noticed lots of extra cleaning going on that you wouldn't have necessarily seen in the past. They also have a couple of large waterslides, lazy river, splash park, and smaller waterpark with the big dump bucket. We also enjoyed the swim-up bar in both of the main pools. The kids clubs & Xbox Lounge were open and each time you enter they take your temperature and distance you from others. My kids normally love kids club but this time they stayed with us the majority of the time... there weren't many other kids signed up and they really just wanted to play in the sand/sea or enjoy the waterslides, etc.

The Xbox Lounge was perfect for the rain breaks in the afternoon. The resort also had shows each night in the theater, they had cushions spaced out to try and keep families together but separated from others. They even had their weekly Caribbean Parade and beach party but with some modifications. Most everyone was good at physical distancing at all points except for a couple of times when we had to distance ourselves if people got a little too close. There were several families (ours included) that wore face coverings anytime inside, not able to be as distanced and anytime entering a restaurant but I have to say we were not the majority and that is definitely something that everyone has to be prepared for. Actually my only complaint was that more guests weren't heeding the mask advice.Normally we would have left the resort for at least 1-2 excursions but this time we decided to stay put and just enjoy the resort. There was so much to do onsite that we honestly didn't miss it.
We created so many great memories that we will cherish forever and I'm extremely happy that we chose to take this much-needed vacation

Ambassador Travel is here for you when you are ready to make your own amazing vacation memories!

Kristie Staton - Travel Consultant
812-479-8687 Ext. 211
Kristie.Staton@MyAmbassadorTravel.com